Success Stories
Working hand-in-hand to make a better world for people with disabilities.
Providing Access & Independence
Mala belongs to the district of Murshidabad, West Bengal in India. She belongs to a financially backward family and has had low vision since her birth. Life for her has always come with obstacles attached to her disability. However, her undying spirit to overcome all her difficulties made her a strong individual.
Going Online As Leaders
Khatun is a 35-year-old Samarth Soochnaprenueur, digital entreprenuer from eastern part of India. She has a locomotor disability that restricts her movement. However, her family always
supported her goal to be self-reliant, unlike her peers and community members who always
demotivated her.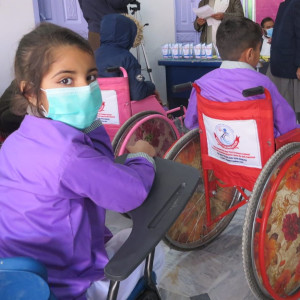 Ameena
In the treacherous mountainous area of Timergara, Lower Dir, Khyber Pakhtunkhwa in Pakistan inclusion of people with disabilities is as evasive as a mirage in the dusty sand on a rainy day.
Often, people with disabilities tend to have poorer health outcomes, lower education achievements, higher rates of poverty, and less economic participation when the services they need are unavailable or inaccessible.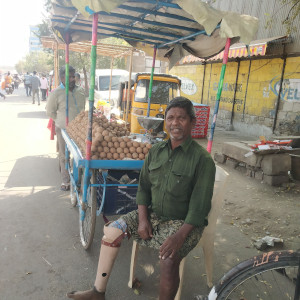 Srinivasulu
Srinivasulu is 41 years old and lives with his family of five in Lakshmipuram, Kurnool. He met with an accident in 2016 and since was confined to his home. He was unable to walk and do anything worthwhile, he was under depression because of his disability and at one point of time he decided to commit suicide considering himself as a liability to the family. The total family is in vulnerable condition and dependent on the work of his wife. They had to depend on coolie for their living. The income of the family was not sufficient to maintain the needs of the family.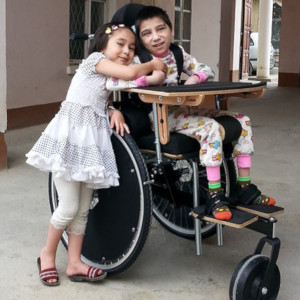 Azizai
Azizai, a young woman with cerebral palsy, lives at home with her parents, sister, and grandfather. She is unable to work but receives a small entitlement from the government. Even when supplemented with her parents' wages, it usually does not cover her daily expenses.
Iqbal
Mohammed Iqbal serves as a role model for all those who dare to dream and work to achieve their dreams. Iqbal has hundred percent disability in his legs, but nothing stops him from aiming for the skies. Iqbal says that he has been at the receiving end of the social ridicule due to his disability, but that never deterred him from achieving what he wanted in life.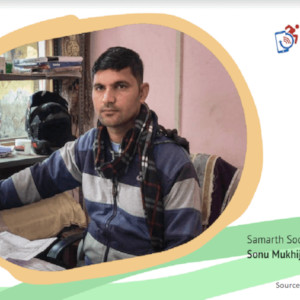 Sonu
Sonu's center is located in the interiors of Alwar. The street is not busy for most of the day, but the area around Sonu's shop is always vibrant and packed with his clients. Since he has been associated with DEF, Sonu feels satisfied with what he has achieved in life by venturing as a Samarth SoochnaPreneur. He considers himself as "Samarth" in the very literal sense of the word.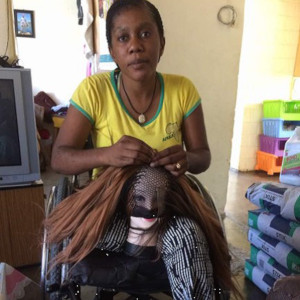 Mathamsanga
Mathamsanqa is 34 and lives with her family of three children and husband in Zimbabwe. A lot of business activities are conducted by informal traders in the community around her house. These include barber shops, tire repair, and sales of fruits, vegetables, and other commodities of various sorts.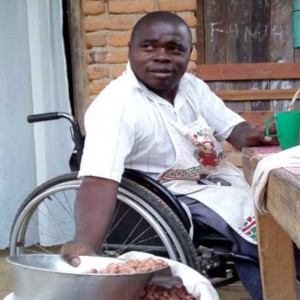 Chikumbutso
Chikumbutso is a married young man with two children who also takes care of his nephew and niece. He got a new EquallyAble wheelchair in 2016, and in 2018 we visited him to find out how he was getting on.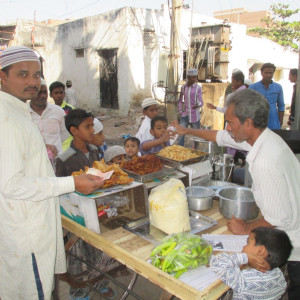 Mohammed
Mohammed reminds us that an illness or injury can make any of us a person with a disability at any moment.
While working at a clothing shop, he fell and fractured his left leg. Without enough money for adequate medical care, his fractured leg led to a permanent disability. The disability led to his becoming unemployed, and he and his two school-age daughters became financially dependent upon his wife. Her paltry earnings as a maid simply could not cover the family's basic expenses, leading to great hardship.
Amin and Anil
Amin and Anil lived in a small village without even basic services like electricity in their homes. Added to this plight were their disabilities, which had rendered them unemployed and poor. They lacked any options to make a living to support themselves and their families.
Jaleel
The ruthless gravel skins his knees, as he coughs with the dust. People stare with wide eyes, hanging jaws, and rude pointing fingers. He crawls with the dust, breathes with the dirt. Sputtering and wheezing, he arrives at school, and clambers into his seat. School begins, and when the day is over he goes back, breathing in all the dust around him. Everyday he did this, everyday, as the ruthless gravel skinned his knees, and he coughed with the dust.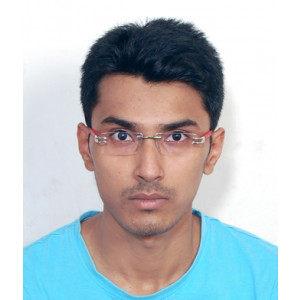 Huzaifa
Huzaifa, a polio survivor, could have easily been one of those statistics. Instead, he beat the odds by competing for admission in the prestigious Indian Institute of Management (IIM). Years of dedication and struggle paid off when Huzaifa was accepted to IIM; however, he now faced another major obstacle: paying for tuition.